MyMce MSN 1.0
MyMce MSN è un servizio Windows che offre la possibilità di controllare Windows Media Center Edition da qualunque computer collegato alla rete internet.
MyMce utilizza un account messenger già esistente o creato appositamente per essere visibile online nella lista dei contatti di chiunque autorizzato lo aggiunga. Il nome visibile di MSN mostra lo stato di MCE (ascolto della musica, visione di video e immagini ecc) oppure attraverso alla messaggistica instantanea è possibile dialogare e con appositi comandi:
ottenere informazioni dettagliate sulla sessione corrente
programmare la registrazione di un programma televiso ad una determinata ora
visualizzare la lista delle registrazioni programmate e effettuate
portare in standby da remoto MCE
programmare l'ora di risveglio dallo standby di MCE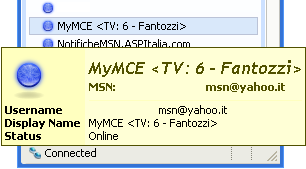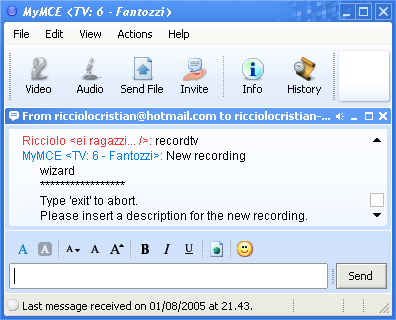 Il file zip con l'installazione si può scaricare da questa pagina e contiene anche un readme che guida alla configurazione del programma.
English version
MyMce MSN is a Windows Service that allows you to remotely control your Windows Media Center Edition box using your internet connection.
MyMce use an msn messenger account to be used by authorized contacts. In the account name you will find informations about your MCE status, as: listened music, video play, images, etc. You can send your command as text to the MSN account to:
obtain detailed informations about the current session
schedule a new TV recording, specifing channel number, date and time
show the list of already done and scheduled TV recordings
stand by your machine remotely
select an hour for your MCE box to be wake up remotely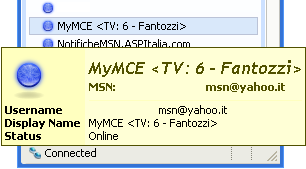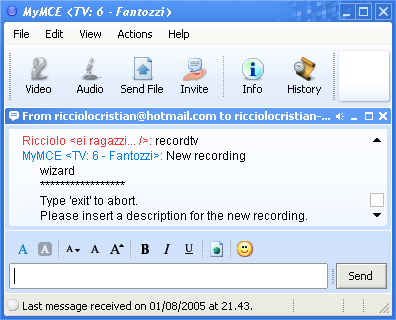 You can download the file including an installation wizard using this link. The package contains a readme file with instructions on how to configure the program.
Commenti
Approfondimenti
Nessuna risorsa collegata