ViewStateAnalyzer 2.0.0
0

0
di Cristian Civera, in ASP.NET,
ViewStateAnalyzer è un tool per sviluppatori ASP.NET 2. Si tratta di una toolband per Internet Explorer che permette di analizzare le pagine aspx.
Premendo il pulsante "Analyze" si ottiene il grafo dei controlli che la pagina contiene e per ognuno di essi viene indicato quali eventi sono stati gestiti, il viewstate che ha memorizzato, l'html renderizzato e lo focalizza nella pagina.
Tramite un'apposita scheda si riceve dall'applicazione web gli elementi privati e pubblici presenti nella cache e poi visualizzarli in formato html attraverso appositi viewer come per esempio: DataSet e output di pagine messe in cache.
Oltre a questo il tool contiene un normale decoder di ViewState e la possibilità di effettuare snapshots dei controlli per poi metterli a confronto e ottenere quindi le differenze tra un postback e l'altro.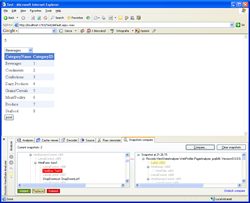 Il tool è scaricabile qua
English version
ViewStateAnalyzer is a tool for ASP.NET 2.0 developers. It's an Internet Explorer toolband that allows you to analyze local ASP.NET pages.
By pressing the "Analyze" button, you will retrieve page controls graph and for each element you can check the handled event, read the viewstate saved by the control and HTML rendered, easily focusing it into IE.
You can view Cached items, both public and private, such as output cache or dataset in HTML format.
This tool also allow you to decode normal __VIEWSTATE hidden field and take one or more controls graph snapshots, so you can diff them and know added and removed controls.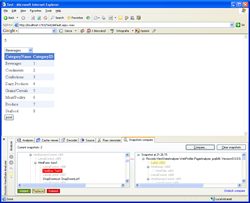 You can download this tool for free here.
Commenti
Approfondimenti